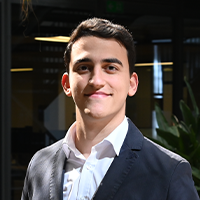 Benjamin Ellul – Junior Analyst, Office of the Chief Officer Supervision, MFSA
Benjamin joined the MFSA in March of 2022 as an intern. Today, he is a full-time member of the MFSA team, working as a Junior Analyst within the Office of the Chief Officer Supervision. During a brief chat, he tells us what it means to be part of the MFSA team at a relatively young age, and outlines the various training opportunities he has benefited from in the past months.
How did the MFSA support your career development through training?
The MFSA's Financial Supervisors Academy (FSA) has provided the ideal platform to develop my overall knowledge of the financial sector. Through the Academy, I obtained a sustainable finance certification and was given the opportunity to attend numerous training sessions on topics such as blockchain, smart contracts and data management.
Why did you choose the MFSA as your workplace?
One of the MFSA's main objectives is to protect consumers, by ensuring good governance in the financial services industry. Being a part of this team at a relatively young age allows me to develop my professional skillset and gives me the opportunity to make a difference in the world of finance.
What is the best piece of advice that you've received that has helped you in your career?
"Trust the process".
This news item was originally published by the Malta Financial Services Authority (MFSA MT). For more information, see the Source Link.