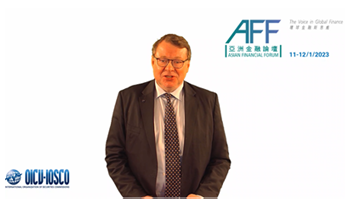 Jean-Paul Servais, Chairman of the FSMA and of the International Organization of Securities Commissions (IOSCO), gave an online talk at the Asian Financial Forum held in Hong Kong on 11 and 12 January 2023. The event brought together global leaders in government, finance and business to share ideas and information. Each year, the Asian Financial Forum gathers thousands of participants from numerous countries around the world.
During his online speech, Jean-Paul Servais notably elaborated on the challenges facing the global financial sector and the role played by IOSCO in this area. He went on to underline IOSCO's priorities for 2023:
sustainable finance and mitigating greenwashing, in particular by developing global reporting standards in this area;
digital  finance, with a focus on providing a framework for crypto-assets;
global cooperation to tackle risks stemming from non-bank financial intermediation (NBFI).
This news item was originally published by the Financial Services and Markets Authority (FSMA BE). For more information, please see the Source Link.