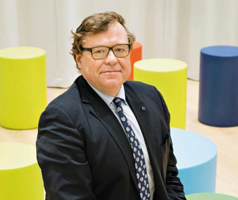 The establishment of the International Sustainability Standards Board (ISSB) was announced on the occasion of the climate change conference in Glasgow. The ISSB will develop international standards to be applied by issuers in climate- or other sustainability-related reporting. In his capacity as chair of the IFRS foundation Monitoring Group, Jean-Paul Servais, chairman of the FSMA, will take part in supervising the ISSB and welcomes its establishment.
The Monitoring Board ensures the proper functioning of the International Financial Reporting Standards (IFRS) Foundation. The International Accounting Standards Board (IASB) operates under the umbrella of that not-for-profit organization. The IASB sets the IFRS standards. The latter are international accounting rules governing the preparation of annual reports and financial statements. On the occasion of the climate conference in Glasgow, the IFRS Foundation announced the formation of a new organization under its auspices: the ISSB. The mission of the new Board is to develop standards for sustainability-related reporting.
Sustainability, in its various aspects, is of growing importance when it comes to company valuation. Therefore, the financial markets are increasingly calling for more uniform reporting about its impact. This includes the financial impact of climate change on a company. The standards that the ISSB will develop are intended to serve as the basis for such reporting.
For purposes of developing these standards, the ISSB will work with the IASB to ensure compatibility with existing accounting standards. Like the IASB, the ISSB will develop standards independently and in accordance with robust procedures, and will also be accountable to the IFRS Foundation Board of Trustees. The latter is, in turn, overseen by the Monitoring Board, made up of representatives of various leading market regulators and public authorities.
The chairman of the FSMA, Jean-Paul Servais, is also chair of the Monitoring Board. In that capacity and as vice chair of the International Organization of Securities Commissions (IOSCO), he welcomes the formation of the ISSB:
"Corporate reporting, supported by high-quality internationally accepted standards continues to be essential for efficient, fair and transparent financial markets. That is why I welcome the establishment of the ISSB and the cooperation of existing organizations on sustainability reporting within the ISSB, thereby responding to the demand for a single, worldwide basis for reporting on sustainability-related matters. The Monitoring Board stands ready to extend its mandate to the ISSB with a view to ensuring that its sustainability-related standards are guaranteed to be of the same high quality as the IFRS accounting standards."
For more information:
This news item was originally published by the Financial Services and Markets Authority (FSMA BE). For more information, please see the Source Link.